It seems that there is no end to the wealth of terrible election marketing material from our nations politicians. Due to the fantastic feedback we received from our last article on Eight of the Worst Irish Election Posters Ever, we have decided to commemorate todays general election with Eight More of the Worst Irish Election Posters Ever. Enjoy the posters below and don't forget to go out and vote today!
8. Mick Wallace
Mick Wallace is an independent politician, former football manager and a property developer from Wexford. Mick is a colourful character best know for his shock of long hair, "electric salmon" shirts and his often outspoken demenour. In the above poster poster from his 2011 campaign, Mick relied on his brand association with a lovely shade of "electric Salmon" and a no nonsense "Scruff of the neck" tagline.
Source: Irish Election Literature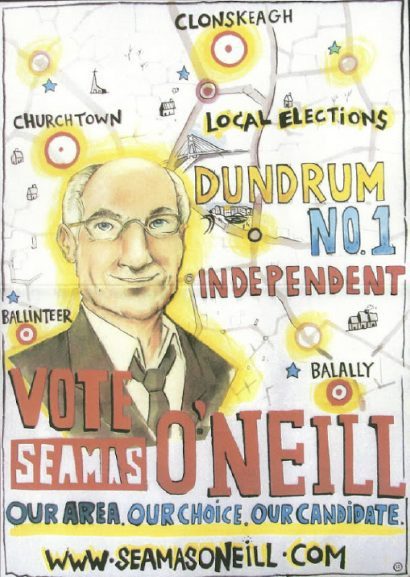 7. Seamas O'Neill
Seamus O'Neill ran in the 2009 local elections in Dundrum. Highlighting the majestic use of mixed media, with markers and poster paints, Seamas released his inner child on his constituents. Unfortunately Seamas didn't get elected, but he did create a lasting impression with the above poster.
Source: Irish Election Literature
6. Martin Heydon
Martin Heydon is a Fine Gael politician for the Kildare south constituency. Martin's penchant for puns and the love of a certain time travel movie helped Martin come up the above masterpiece. Great Scott Marty!
Source: Irish Election Literature
5. Liam Johnston
Liam Johnston is a former member of the Green Party and a current member of Fis Nua. The above poster shows a less than happy Liam surrounded by the alluring might of Microsoft Words design capabilities. The new vision didn't include considered design. The people demand accountability for this vision!
Source: Irish Election Literature
4. Derek McDowell
Derek McDowell is a member of the Labour party and an authority on the subject of political hygiene. In this very informative poster Derek gives some squeaky clean advice for his constituents. Our only questions are, how long does ten years of the PD's and Fine Fail take to wash off and what brand of soap should be used during this process?
Source: Irish Election Literature
3. Alan Shatter
Fine Gael politician and part time erotic novelist, Alan Shatter returns to our listings with this tabloid magazine inspired poster. Alan dons a full trailer park tuxedo and unleashes his most sultry Captain Kirk pose in this truly horrendous piece. TV's Kirk once said, "a little suffering is good for the soul". Apparently Shatter agreed!
Source: Irish Election Literature
2. Sean Kelly
Dublin South Central Independent, Sean Kelly wants you to decide between truth or a political party. Sean is seen above having a non party with fellow non party member Mr Snugglesworth.
Source: Irish Election Literature
1. Clifford T. Reid
This is possibly the most amazing poster that any Irish political figure has ever released. Kildare native Clifford T. Reid ran on the very solid issue of stopping the paedophiles! Wow.
Source: Irish Election Literature
For any more information regarding our article on the Eight of the Worst Irish Election Posters Ever or to avail of our services please call Opus Creative on +353 (21) 242 8689 or email us on hello@opuscreative.ie