SEO Changes in 2023
SEO is changing all the time, in particular this year will see some big shifts with the advent of AI powered searching and conversational queries. Microsoft's Open AI / Chat GPT is being directly integrated into their browser tech with Bing meaning how you search for content and how that search is returned is going to focus more and more on natural language and visual content.
Google have also revealed their direct competitor to Chat GPT in Bard which will deploy to their ecosystem sometime this year. Google have stated that will be pushing more and more query returns on Video content which means the worlds second largest search engine (after Google), YouTube will start to play a bigger role in the coming months, especially where it's 'Shorts' are concerend.
An example of this; traditionally if you were curious about installing a new car seat for your infant you might type in 'How to install toddler car seat [model]' which might return a list of articles from the web – Now though, imagine a natural langauge tool where you ask the AI a question: 'How do I install this[model] car seat?' – The AI might offer more clarification or queries but will endeavour to return visual feecback which will be prioritising video format.
So in your search returns you might be a selection of video shorts demonstrating the installation. SEO is changing this year, but that doesn't mean your existing content is obsolete, far from it. Written content will still play a huge factor in letting people understand your business and your product.
Read below for more information on how to optimise your WordPress website with SEO 🙂
—
Getting Started with WordPress SEO
One of the bigger questions we see clients ask us when discussing new projects is how to rank their website content in Google. In this blog post WordPress SEO Guide I'm going to go over the basics of optimising your WordPress page or post for SEO (Search Engine Optimisation) using Yoast and give you some tips on common practices as well as how to avoid the pitfalls of content creation.
Content is King
Your content is far more important than you think. Structuring your page to target a specific audience when creating your content is far more productive than just writing copy without any particular goal in mind. So how should you go about this? Your main goal with your website content is to appeal to a certain target audience. With SEO, with achieve this by going after keywords.
Your keyword should almost always be your service, product or goal. In this particular case my goal is to create a 'WordPress SEO Tutorial' for our end-users to reference when creating their WordPress content. So what is a keyword then? A keyword or focus keyword is a word or phrase in which you anticipate your target audience searching for.
In this case I've chosen WordPress SEO Tutorial as this is the phrase I want to target on Google. It is also the phrase I anticipate people searching for when looking for information on this topic.
Your Keyword should be what you envision potential clients or customers searching for when looking for information on Google. If you find it hard to come up with a keyword a good practice is to put yourself in the shoes of a customer and see what you would put into the search box (Nice Restaurants Cork)
Once you've chosen your Keyword it's time to start organising your content around it. As a rule of thumb I never create content without first having my keyword. You'll find it's much easier to create your content once you know what you are trying to accomplish with it.
Structuring your Content
Now that we have our keyword it's time to start putting all the pieces together. Writing your content should now be a breeze that you have a goal in mind. Your keyword should be appearing in your page title, your page slug url, your page content and any image alt tags on the page.
You should aim for now fewer than 300 words in your copy and 500 if possible. Try and work your keyword into the opening paragraph of your content and reproduce it two to three more times thereafter. If applicable use links both internal and external that relate your keyword to other topics on your website.
You may have noticed in the first paragraph of this article the words blog post are struck. This is a common error when writing content without a keyword in mind. You will often find yourself writing non-descriptive, generic copy to highlight points that should be made immediately obvious by including a keyword or phrase describing your product or service.
Try to be as direct as possible when structuring your content and avoid wasting opportunities to inform Google of your service.
Using Yoast
All of our custom WordPress project ship with Yoast – a flagship SEO tool for the WordPress platfrom. Below is an image of the functionality provided from Yoast:
Looking down through the image we can see the readability and keyword statuses are green. Our snippet preview (how the content will look when searched for on Google will appear) has our focus keyword present in it's Title, URL (the address of the article – seen underneath the title) and content description. This is very good and clearly tells Google what we are providing in our article.
Scrolling down a little further we can our focus keyword section. This is where you enter your desired keyword. As you can see we have ours populated already: WordPress SEO Tutorial – this should be the first thing you do when creating any page or post as it's the backbone of our content.
Below this we have our analysis. This section will give you tips on improving your content if needed as well as any information on your keyword and how it's performing within the page structure. Everything looks good here. You should always aim to get your content to green if at all possible.
So how does our page look overall? Scrolling down through the below image we can clearly see our content is structured around our focus keyword. We can see on the right hand side that our readability and SEO ratings are green. Perfect! Browsing through the page we can see our focus keyword in our page title, the intro title, the first paragraph of the content and below thereafter. I think we're nearly ready to publish.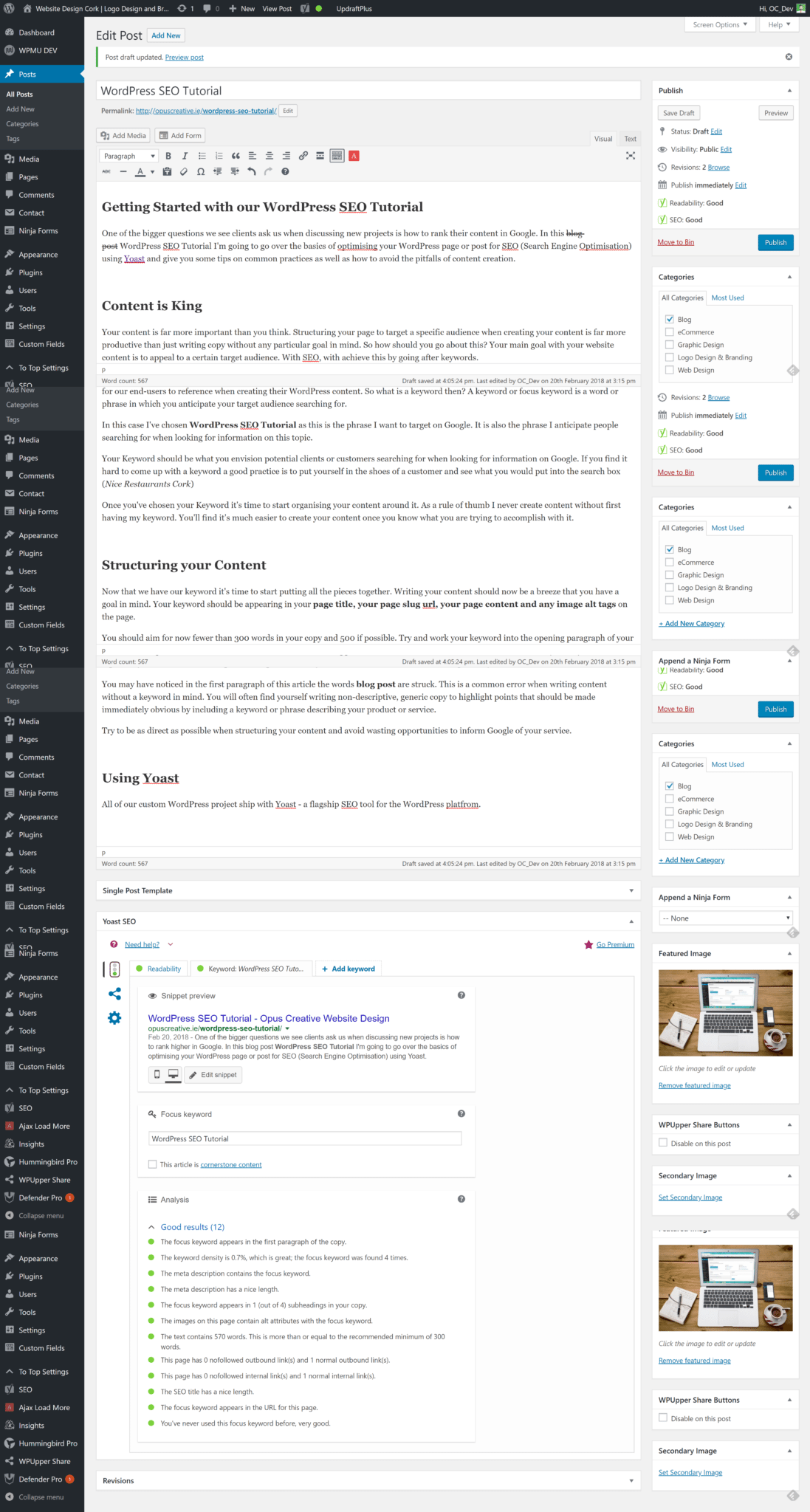 Closing comments
Once you change your attitude to content creation on your website and focus on your target audience creating copy that targets your customers directly you'll find that everything else will fall into place. Just remember to first identify your keyword then arrange your content around it. Try and tell Google as best you can without reverting to robotic English who your service or product if for and where they can find it.
I hope this WordPress SEO Tutorial has helped explain how basic SEO optimisation works on WordPress and how you can organise your website content to work for you.
If you would like some direct information on this topic or wish to discuss SEO optimisation for your website then please get in touch at: gareth@opuscreative.ie I would be happy to go over some of the basics with you.